PANINKRET Chem.-Pharm. Vertriebsges. mbH is a chemical-pharma­ceutical marketing company with limited liability which distributes ani­mal and plant extracts from reliable production partners. Our production partner for animal extracts and hydrolysates is the manufacturing plant Paninkret Chem.-Pharm. Werk GmbH  in Westerhorn which is also co-partner of PANINKRET Chem.-Pharm. Vertriebsges. mbH.
The plant extracts and fresh plant pressed juice powders included in our delivery programme are mainly supplied by our production partners Salus Haus Nachf. GmbH & Co KG in Bruck­muehl and Walther Schoenenberger Pflanzensaftwerk GmbH in Magstadt.
On request a lot of the plant extracts distributed by our company can be offered with kosher certificate as well as in organic quality.
In 1982 the distribution company PANINKRET Chem.-Pharm. Vertriebsges. mbH was founded by Dr. G. Möller and Dr. Ing. M.C. Sezen who is also majority shareholder. The distribution company PANINKRET Chem.-Pharm. Vertriebsges. mbH with headquarter in Pinneberg has a well trained and very committed staff of around 18 employees. Our company is DIN EN ISO 9001:2015 certi­fied and makes its main turnover by exporting. Foreign custo­mers are supplied by our international representatives in the in­di­vidual countries.
We place the highest value on the quality of the products distributed by our company which are generally accepted by our customers as our production partners / preliminary distributors are considered to be some of the leading companies in their field.
To put an even stronger emphasis on these demands we have reviewed our operation processes on expediency and functionality from a critical point of view and we established a management system in compliance with the requirements of DIN EN ISO 9001:2015 since 1999.
Our team:
Further information about our company:
2018
PANINKRET GmbH is exhibiting at "HI Europe" in Frankfurt
2018
PANINKRET GmbH goes Hollywood: The first advertising movie in the company's history is online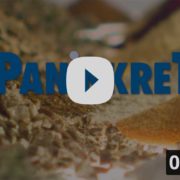 2017
PANINKRET GmbH is exhibiting at "FI Asia" in Bangkok
2016
PANINKRET GmbH is exhibiting at "Vitafoods Asia" in Hong Kong
2015
PANINKRET GmbH is exhibiting at "Vitafoods Asia" in Hong Kong
2014
PANINKRET GmbH is granted permission to trade Active Pharmaceutical Ingredients (API)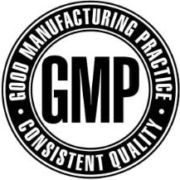 2014
PANINKRET GmbH is exhibiting at "Vitafoods Asia" in Hong Kong
2013
Dr. Ing. Sezen hands over the management to Mr. Tkacz (from left to right: Mr. Tkacz and Dr. Ing. Sezen)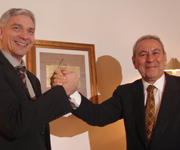 2007
PANINKRET GmbH receives the NOP certification
2006
Dr. Ing. Sezen receives the Federal Cross of Merit (from left to right: Dr. Eckart Cuntz and Dr. Ing. Sezen)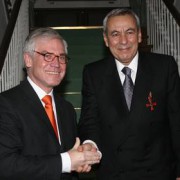 2005
Certification in accordance with the EU organic guidelines for the labelling of organic products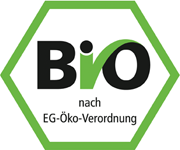 2000
DIN EN ISO certification as basis for quality assurance and quality management

1982
Foundation of PANINKRET GmbH